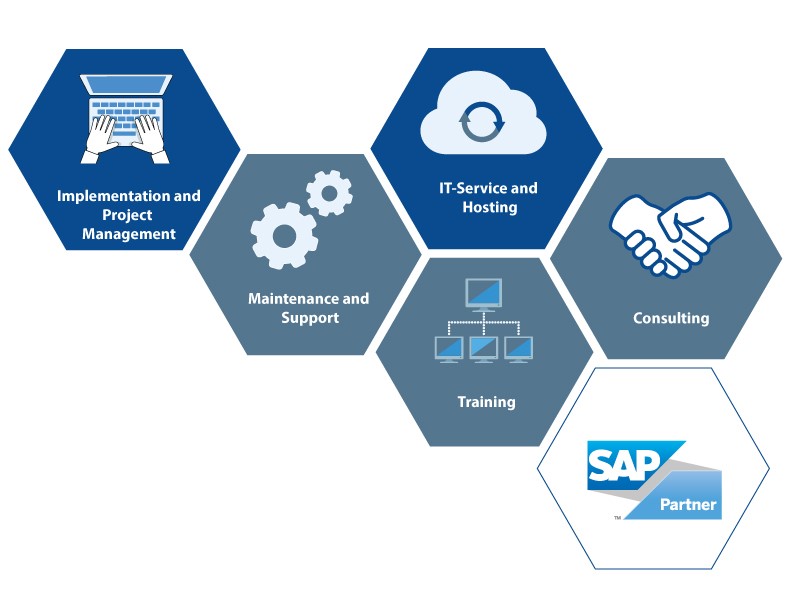 As the newest addition to the WMP Group, we support medium-sized companies in Mexico with digital optimization of their business processes. WMP Digital stands by you as a specialized IT and software service provider for the introduction, adaptation and maintenance of your digital systems
Likewise, we provide consultancy and advise on the introduction and use of SAP Business One and SAP R3/S4 systems by focusing specifically on Mexico's special requirements.
Professional consultancy for your company's digital transformation
Depending on your company's specific needs, we provide professional counseling on the type of software that is best for automating and optimizing your business processes. The purpose is produce a clear decision-making base aimed to efficient and targeted management to bring different functions and business areas together. In doing so, we offer special solutions for core functions digitalization in the administration, financial accounting, bank processing, sales, purchasing, customer relationship management, inventory control, manufacturing, accounting and reporting areas.
Implementation and Project Management
WMP Digital not only supports your company with planning and consulting, but also with the implementation of your company's digital transformation. By taking into consideration the specific requirements, we provide support in the customization and implementation of your company's software making sure all Mexican Standards and legal requirements are met.
Training
Once the software has been successfully implemented in your company, we provide extensive training for end users so that it rapidly becomes an integral part of everyday business operations, thus allowing to benefit from all the advantages of your company's digitalization from day one.
Maintenance and Support
You are not alone! Once the software has been successfully implemented, Our IT support team will assist you with any questions, issues or technical adaptations as needed. To ensure a smooth system operation, regular maintenace is also provided.
Consulting
Regardless of whether an ERP system is already implemented or is being implemented for the first time, if individual business processes need to be outsourced, we will be more than happy to manage them in your own system. This option will allow you to benefit from our highly qualified and multicultural team know-how. Our staff have been professionally advising companies in Mexico on tax and legal issues for over 10 years.
IT-Service and Hosting
If a given ERP system is currently used in your company and your IT infrastructure is not intended for this purpose, we will be more than happy to provide you with our hosting services. A mapping of your business processes in our systems can be done by our specialists. With this option, you will be able to have online access to your data at any time while enjoying the benefits of our IT Service which will deal with all technical issues.