Business culture of Mexico
Expanding and therefore opening a business in another country offers both great opportunities and potential for error. Since nations' attitude and approach to life vary widely so does doing business. The business culture of Mexico is no exception. Hence, in order to avoid embarrassing mistakes which will hinder success, companies are well advised to first familiarize themselves with Mexican business culture.
As a little help, we provide you with a useful guide that includes all essential topics such as sense of time, behavior in the company and towards business partners as well as general communication.
Key characteristics of Mexican culture
Mexican business culture is significantly influenced by characteristics of Mexican culture as such. The perception of power and power distribution play an important role in daily life. Therefore, a structured corporate hierarchy is not only an absolute must, but also heartily welcome among the workers. Yet promotion prospects should be existent since Mexicans love "classic macho behavior" and competing with each other. As a result, status and power as a reward for extraordinary working efforts are highly valued.
Social life and enjoying yourself is equally important. They have a very high group consciousness and feel a strong family affiliation. Going out a few times a week is mandatory, and Mexicans are happy to oblige. Bi-weekly or even weekly salaries is the logical conclusion.
Understanding of time and punctuality
While German punctuality is nearly worldwide known as arriving on time with pinpoint accuracy, Latin American countries consider time and appointments a rough guideline at best – the so called mañana effect. Arriving 30 minutes late to work or a meeting is still referred to as on time and tolerated within the business culture of Mexico. To just run late yourself as a conclusion on the other hand, is not a good idea. Mexican behavior should not be transferred to your own. Foreign business partners are still expected to be punctual.
So bring a little extra time or your laptop to work while waiting. Anyway, you should send a confirmation before the meeting, as Mexicans might otherwise assume that the meeting has been cancelled.
Successful business communication
When doing business in Mexico culture compliant behavior is key. In this case it is synonymous with face-to-face communication. Business is almost never conducted over the phone or email because Mexicans like to do business with friends. Thus in person it is easier to evaluate one's level of trust and compatibility. Those aspects are also reflected in common body language. A kiss on the cheek and a hug are perfectly normal, men usually just shake hands.
Open postures, eye contact and smiling are crucial ways to express interest, whereas crossed arms or hands may be viewed as disapproval and lack of interest. Do not worry if things get heated. Emotive speech and gestures lay within the Mexican temper and are therefore seen as further signs engagement.
Yet doing business with friends does not mean to automatically throw all forms of respect overboard. Informal language is common practice among employees of the same rank. The formal "usted" is used between managers and employees. At business meetings one should wait for the Mexican business partner to offer the informal "tu".
Although speaking fluent Spanish is no prerequisite, knowing some basics such as "Buenos días", "Gracias" or "Como estas" will prove useful. Especially, since in Mexican business culture personal matters and the well-being of each other are always discussed first. To get in the right mood and help with a natural start, meetings are often conducted during breakfast or lunch. It is quite common for managers to speak flawless English, yet workers normally do not. Hence, inform yourself in advance if a translator should be present.
If you have any further questions regarding the business culture of Mexico, do not hesitate to contact us!
Have you already found a possible business opportunity for your company yet? Fantastic! This is the time to start your business in Mexico. WMP supports you in every step on the way to a successful incursion to the Mexican market. For further information about Mexico as business location and the benefits of starting a business with us, please click here.
Contact us!
We serve our clients, who represent different industries, with over 100 employees at our offices in Queretaro, Mexico City, Puebla, Stuttgart (Germany), and Greenville (S.C., USA).
WMP Mexico Advisors
Pabellón Santa Fe
Anillo Vial Junípero Serra 2601 Office 201
Residencial Juriquilla Santa Fe
76230 Querétaro, Querétaro Mexiko
T: +52 (442) 209 6870
E-Mail: info@wmp.mx
Why we are your partner for building business in Mexico?
Our long experience, insight know-how and extensive network of contacts and relationships
Our full service
We keep you uptodate – Read our Mexico-Blog
Doing business in Mexico – Start now!
Dicsover the most attractive economic regions located in Mexico
Automotive and aerospace industries in the Bajío region
Puebla – Automotive mecca since the early days
Metalworking industry at the US border
Jalisco – The Mexican Silicon Valley
Headquarters and the chemical industry in the capital region
Baja California – The gateway to the Pacific Ocean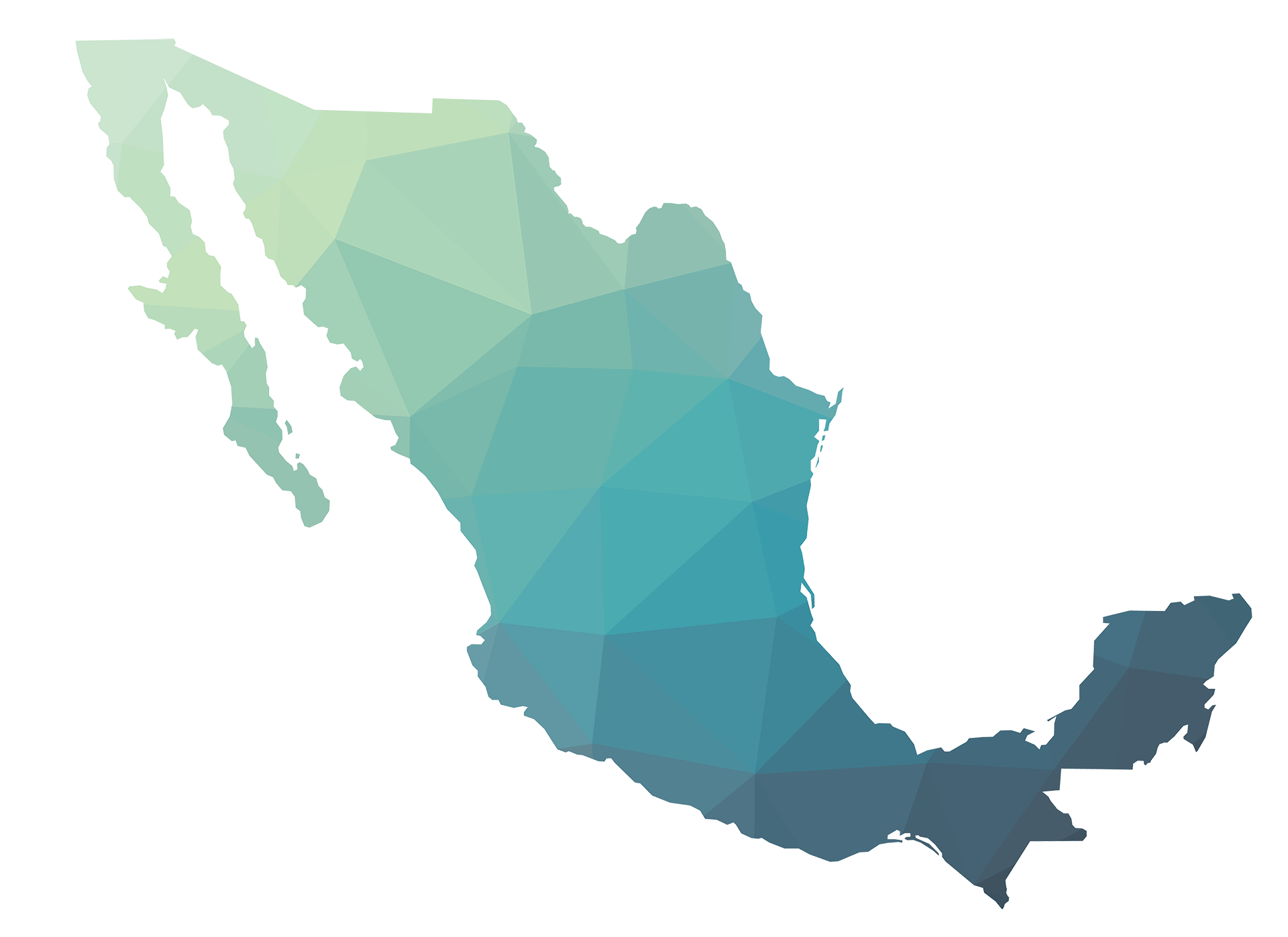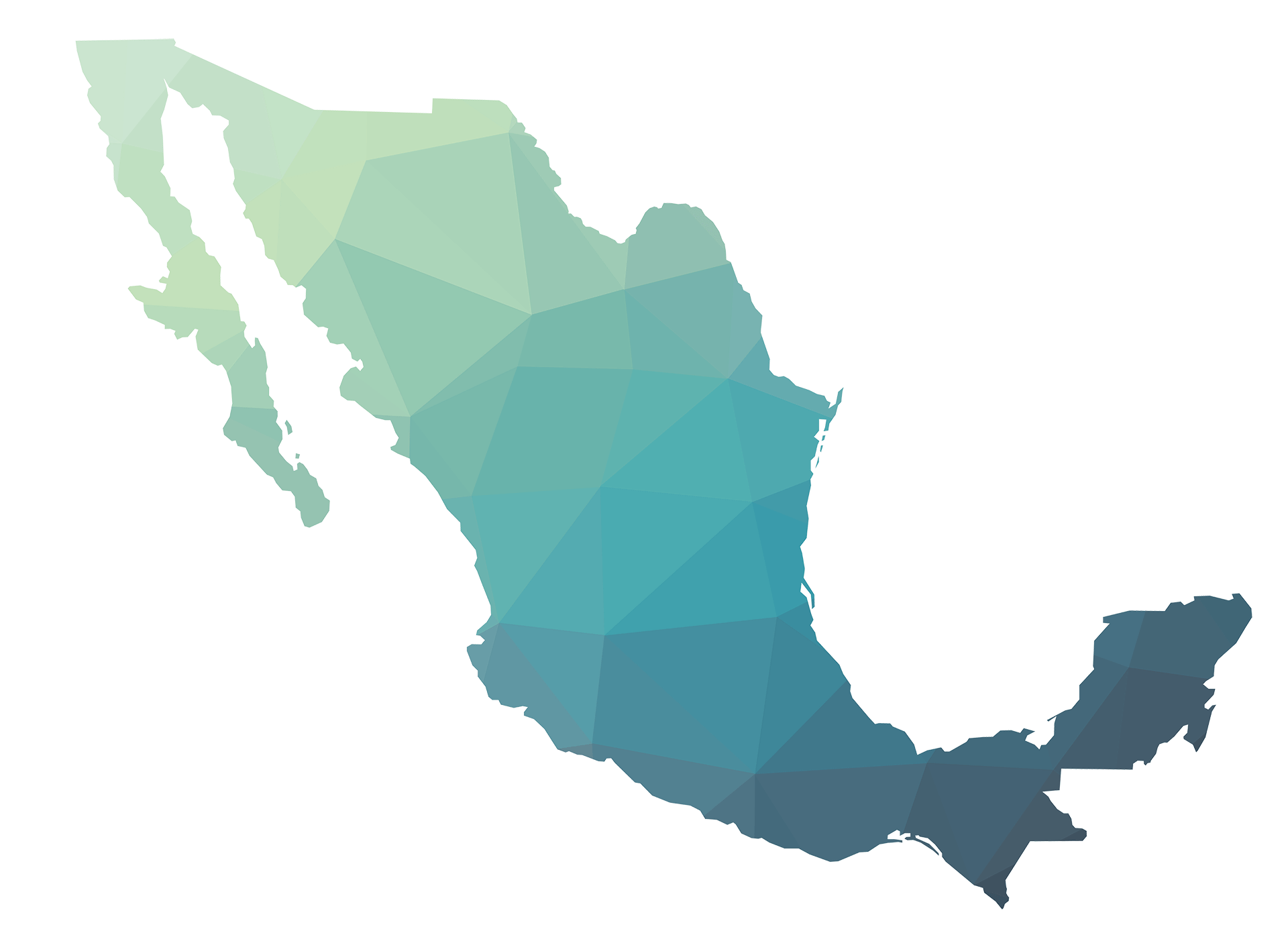 1
Automotive and aerospace industries in the Bajío region
Located in the center of the country, the states of Aguascalientes, Guanajuato, Querétaro, and San Luis Potosi are among the most popular regions when it comes to the location of automobile manufacturers. The new BMW and Daimler plants, which will open in 2019 and 2020 respectively, will also ensure an additional demand for suppliers. For the aviation industry, a strong growth potential is predicted for the coming years, which will consequently attract more FDI.
The Canadian company Bombardier has a strong presence in Querétaro, and a specialized Aviation University is located there. Overall, Mexico is one of the six most important suppliers in the U.S. aviation sector.
2
Puebla – Automotive mecca since the early days
Since the mid-sixties, the Volkswagen Group has been producing individual models in Puebla. Meanwhile, the German car manufacturer Audi has established facilities in the same state, more precisely in the village of San José Chiapa. In 2016 the new production plant, which includes an education center, was inaugurated.
3
Metalworking industry at the US border
Years ago, the metal industry was established close to the US border, in the Mexican state of Nuevo León, especially around its capital Monterrey. An advantage of this location is its proximity to the US market, as 84% (2017) of exports go to the neighboring country.
4
Jalisco – The Mexican Silicon Valley
IT companies have settled mainly in the state of Jalisco, which is located on the west coast of Mexico on the Pacific Ocean.
The region around Guadalajara is known as the Silicon Valley of Latin America, where you can find more than 700 high-tech companies such as Oracle, HP, Motorola, and IBM. Jalisco currently has the fifth-highest number of companies with FDI in Mexico. Approximately 50 percent of all foreign investment comes from the United States and Canada, with another 25 percent from Europe.
5
Headquarters and the chemical industry in the capital region
The location in and around the Mexican capital has been chosen by many companies for their Mexican headquarters. It is not only the central location and the well-developed infrastructure that speak for this region, but also its proximity to the economically strong regions of Puebla and the Bajío. The capital region has attracted companies from the chemical industry such as BASF and Bayer.
6
Baja California – The gateway to the Pacific Ocean
Baja California is an excellent opportunity for suppliers in all sectors due to its privileged geographical location and proximity to the United States. In recent years, medical technology is the main type of company to be established in this region; these companies work closely with manufacturers in San Diego.
The port of Ensenada, one of the five seaports in Baja California, is one of the most important ports on the Pacific Ocean.