Business opportunities in Mexico
Mexico's national economy is full of opportunities. Over the past decades, the country has significantly increased its global competitiveness. In most part, economic growth is the result of Mexico's favorable economic framework, including the following characteristics:
Free trade economy
A favorable geographical location
Low production costs and cheap labor
A consolidated network of international companies
In general, Mexico's national economy is stable. Nevertheless, Mexico remains an emerging economy.
This is actually a perfect combination for foreign investors and businesses: Being an emerging market opens up a wide range of business opportunities as there are still diverse and promising gaps in the market to be filled in. These can be used within a stable and favorable economic framework. In this way, the emerging economy status offers "first-mover" advantages for foreign businesses. If you corner the market early, you might become one of the major brand names in such industry. Possibly, your brand might even become the leading name regarding the given type of product.
WMP has operated in Mexico for over 11 years. During this period, we have gained profound knowledge and understanding of both Mexican markets and economy. Following you will find a quick overview of the business opportunities in Mexico duly pointing out how to use non-saturated markets and key demands.
Key markets for diversification
Renewable energies: Mexico is pushing ahead within the renewable energies sector. Water, solar and wind energy is already gaining foothold in Mexico. And there are more energy sources holding business potentials that are not fully used yet – for example geothermal energy or biomass.
Infrastructure: Mexico's infrastructure needs modernization in different sectors such as transportation, healthcare and energy, just to mention a few. This opens up business opportunities for foreign companies that may be inserted in the market as operators or suppliers for already existing operators.
Niche markets: Some niche markets within Mexico's economy are likely to increase export quota and international relevance in the future; amongst these we have a few examples in the construction, metal and textile industry sectors.
Meeting the needs: Satisfying private and industrial demands
Unsatisfied private and industrial demands represent a great business opportunity for foreign companies. As Mexico's population is mainly comprised by young adults, the number of private consumers is constantly growing. Due to social inequity, not all social levels are profitable. As a matter of fact, only a small portion of the Mexican society has strong purchasing power.
Nevertheless, these parts of Mexico's society really are willing to spend money. As private consumers, they are especially looking for buying high quality products such as clothing, travelling or home furnishing.
Consumers in the industrial field also have a strong purchasing power, especially with regard to infrastructure, environmental and energy matters. Especially in the fields of infrastructure, environment and energy, industrial consumers are looking for innovative, sustainable and efficient technologies that save resources and energy.
Technology: Increased efficiency
One of the challenges Mexico is currently facing consists of increasing efficiency through diversification in technology and general modernization of work processes and techniques. Some sectors, such as the automotive and aerospace industry, have already started targeting such through implementation of technologies aimed to reduce costs and improve performance.
New technologies could make a difference in other sectors as well, such as health care, energy or oil and gas. Technological improvements are required in the R&D field as well as in education; here, technology- skilled suppliers are needed. That opens up great business potential for mechanical engineers and technology service providers.
Innovation and technology are key words when we think of long-term business opportunities in Mexico. Regardless of being manufacturer, supplier or service provider – if you, as a company, are in the innovation technology business, Mexico surely provides great business opportunities for you.
Have you found a possible business opportunity for your company yet? This is the time to start your business in Mexico. WMP supports you in every step on the way to a successful incursion to the Mexican market. For further information about Mexico as business location and the benefits of starting a business with us, please click here.
Contact us!
We serve our clients, who represent different industries, with over 100 employees at our offices in Queretaro, Mexico City, Puebla, Stuttgart (Germany), and Greenville (S.C., USA).
WMP Mexico Advisors
Pabellón Santa Fe
Anillo Vial Junípero Serra 2601 Office 201
Residencial Juriquilla Santa Fe
76230 Querétaro, Querétaro Mexiko
T: +52 (442) 209 6870
E-Mail: info@wmp.mx
Why we are your partner for building business in Mexico?
Our long experience, insight know-how and extensive network of contacts and relationships
Our full service
We keep you uptodate – Read our Mexico-Blog
Doing business in Mexico – Start now!
Dicsover the most attractive economic regions located in Mexico
Automotive and aerospace industries in the Bajío region
Puebla – Automotive mecca since the early days
Metalworking industry at the US border
Jalisco – The Mexican Silicon Valley
Headquarters and the chemical industry in the capital region
Baja California – The gateway to the Pacific Ocean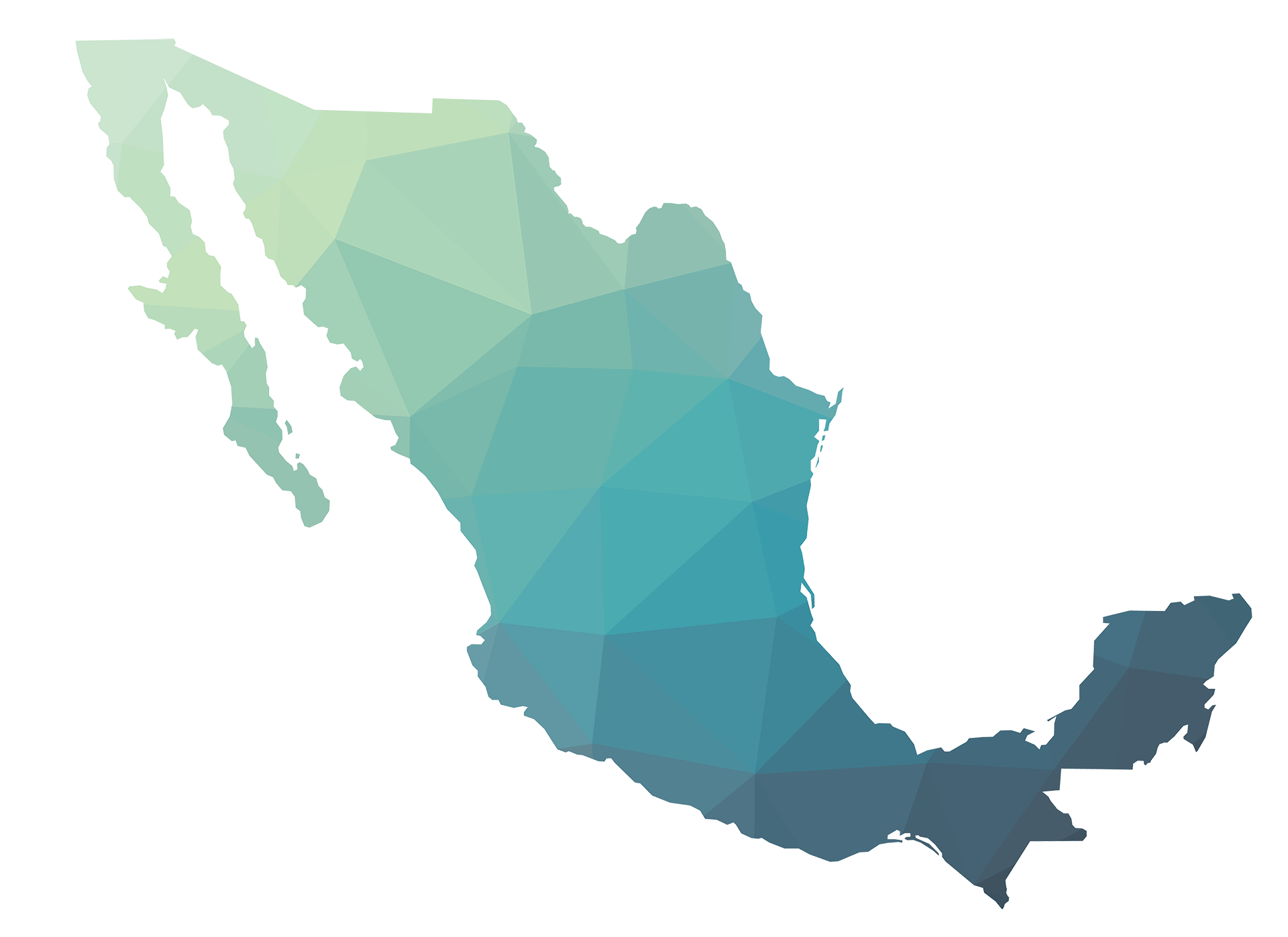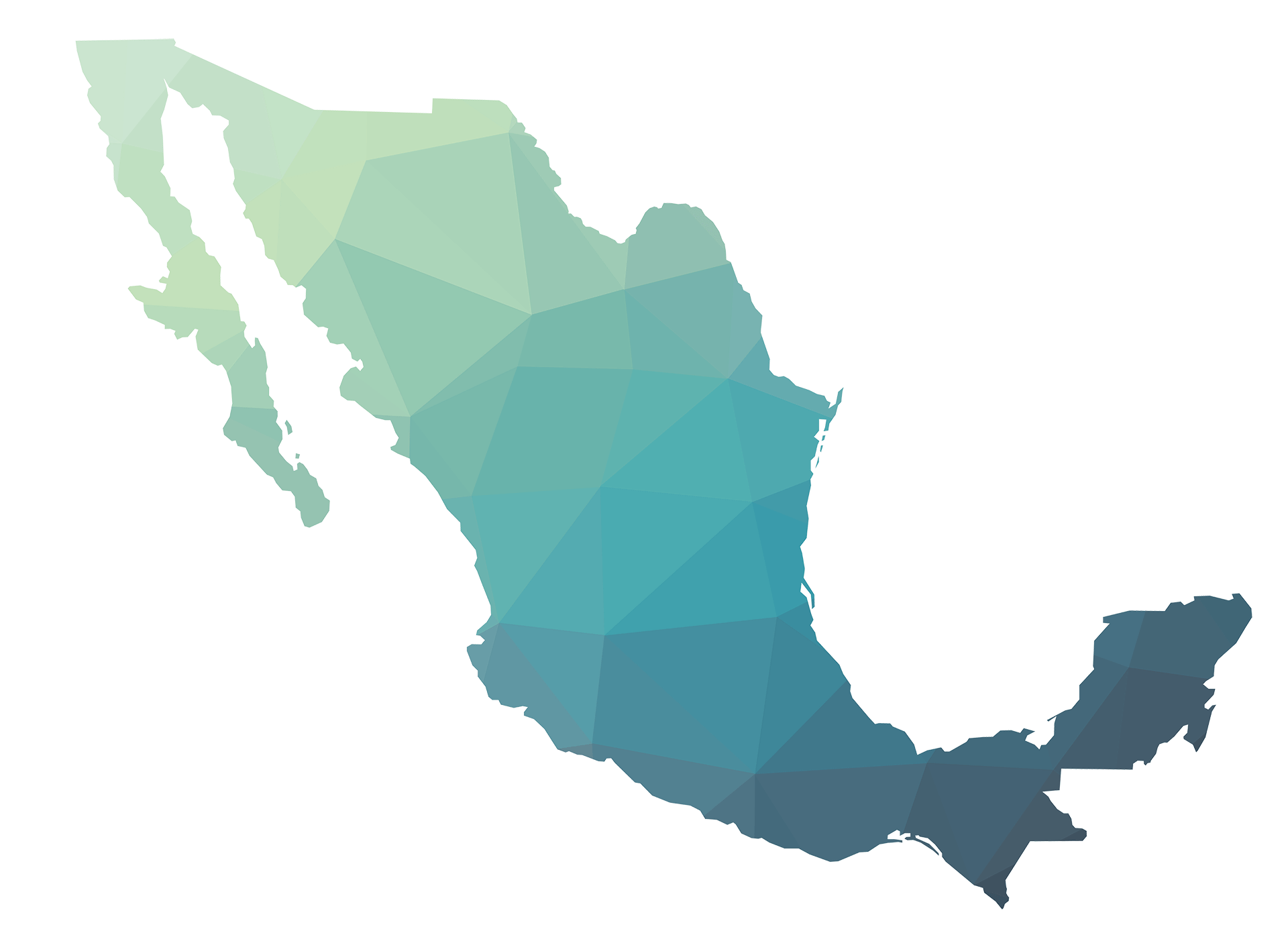 1
Automotive and aerospace industries in the Bajío region
Located in the center of the country, the states of Aguascalientes, Guanajuato, Querétaro, and San Luis Potosi are among the most popular regions when it comes to the location of automobile manufacturers. The new BMW and Daimler plants, which will open in 2019 and 2020 respectively, will also ensure an additional demand for suppliers. For the aviation industry, a strong growth potential is predicted for the coming years, which will consequently attract more FDI.
The Canadian company Bombardier has a strong presence in Querétaro, and a specialized Aviation University is located there. Overall, Mexico is one of the six most important suppliers in the U.S. aviation sector.
2
Puebla – Automotive mecca since the early days
Since the mid-sixties, the Volkswagen Group has been producing individual models in Puebla. Meanwhile, the German car manufacturer Audi has established facilities in the same state, more precisely in the village of San José Chiapa. In 2016 the new production plant, which includes an education center, was inaugurated.
3
Metalworking industry at the US border
Years ago, the metal industry was established close to the US border, in the Mexican state of Nuevo León, especially around its capital Monterrey. An advantage of this location is its proximity to the US market, as 84% (2017) of exports go to the neighboring country.
4
Jalisco – The Mexican Silicon Valley
IT companies have settled mainly in the state of Jalisco, which is located on the west coast of Mexico on the Pacific Ocean.
The region around Guadalajara is known as the Silicon Valley of Latin America, where you can find more than 700 high-tech companies such as Oracle, HP, Motorola, and IBM. Jalisco currently has the fifth-highest number of companies with FDI in Mexico. Approximately 50 percent of all foreign investment comes from the United States and Canada, with another 25 percent from Europe.
5
Headquarters and the chemical industry in the capital region
The location in and around the Mexican capital has been chosen by many companies for their Mexican headquarters. It is not only the central location and the well-developed infrastructure that speak for this region, but also its proximity to the economically strong regions of Puebla and the Bajío. The capital region has attracted companies from the chemical industry such as BASF and Bayer.
6
Baja California – The gateway to the Pacific Ocean
Baja California is an excellent opportunity for suppliers in all sectors due to its privileged geographical location and proximity to the United States. In recent years, medical technology is the main type of company to be established in this region; these companies work closely with manufacturers in San Diego.
The port of Ensenada, one of the five seaports in Baja California, is one of the most important ports on the Pacific Ocean.