Mexican economy on the rise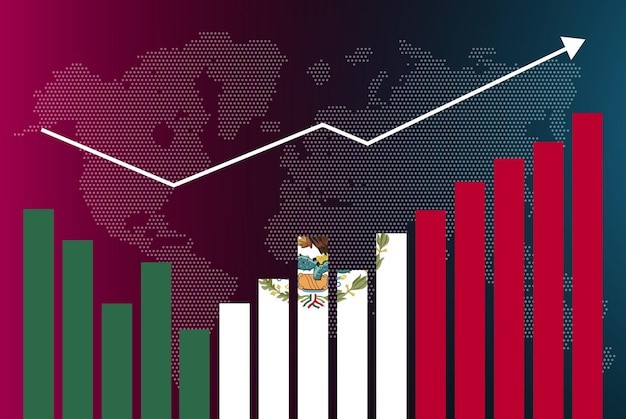 Mexico is currently recovering from a long-lasting pandemic that heavily impacted its economy as well as its society. Informal workers, women and the youth were particularly hit, creating long-standing social and economic challenges.
But on the 29th of July 2022, President Andrés Manuel López Obrador celebrated a 2 % growth of the Mexican GDP in 2022, stating that: "There was economic growth […] while in other countries it is being reported that it is decreasing. We are recovering, we are moving forward."
This celebration is due to the fact that Mexico's economy is currently expanding at the fastest pace in over a year, with a growth of 1.1 % in April compared to the previous month and a general rise for the second consecutive quarter. This suggests a final economic recovery from the pandemic.
Furthermore, the economic bond with the US seems to finally be broken, as previously it was perceived there was a "curse", meaning that if the neighbour of the north was doing poorly, Mexico was doing worse. This correlation is now no longer existent, as while the Mexican GDP grew by 1.1 %, the United States reported a drop of 0.9 percent in the same quarter. Even the inflation in Mexico, while still at 7.9 % in June 2022, is lower than in the US with 9.1 % and among the other OECD countries, Mexico has the lowest inflation rate.
All in all, analysts are positive that by the start of 2023 Mexico's Economy will finally reach its pre-pandemic level again and has a lot more room to grow with opportunities opening up for foreign investors.
Do you have further questions about current economic developments in Mexico? Do not hesitate to contact us!
https://wmp.mx/UP1/wp-content/uploads/Mexican-economy.jpg
419
626
Liv Winterfeldt
/UP1/wp-content/uploads/WMP-Mexico-Advisors1.jpg
Liv Winterfeldt
2022-08-23 22:57:08
2022-08-23 22:58:00
Mexican economy on the rise