Mexico's national economy is full of opportunities and therefore very attractive to international companies from all over the world. Over the past decades, the country has significantly increased its global competitiveness and outsourcing to Mexico is more and more common. In most part, economic growth is the result of Mexico's favorable economic framework, including the following characteristics:
Free trade economy
A favorable geographical location
Low production costs and cheap labor
A consolidated network of international companies
However, there are requirements to be fulfilled in order to stay compliant – one of them being a work visa for employees.
Mexican work visa Types
Unless one is a Mexican national, a work visa is obligatory to comply with Mexican law and can be obtained fairly easily. All immigration matters are handled by the National Institute of Immigration, including issuing work visas. Mexican authorities distinguish between three different types of visas depending on the nature and duration of one`s stay. Individuals working and staying longer than 180 days need a residency visa with permission to work. For stays less than 180 days, a tourist visa with permission to work works too.
Tourist visa: Valid for a stay of up to 180 days and anything besides lucrative activities.
Temporary resident visa: Applies to foreign nationals wanting to exceed a stay of 180 days. In combination with the Mexico work visa, one is allowed to stay and work in the country for a duration of up to four years.
Permanent resident visa: Foreigners looking to make Mexico their home, require a permanent resident visa.
Regulatory requirements for Mexico work visas
Besides duration of stay, there are more factors to take into account when applying for the correct Mexican work visa. Most work-related cases will require a permanent resident visa. In order to obtain such, family connections in the country, sufficient monthly income or four years of regular status as a temporary resident is required. Therefore, it might be easier to first apply for a temporary resident visa since it is easier to come by.
The types of documents required depend on the visa one is applying for. The temporary resident visa for instance requires:
A Mexico Visa Application Form
A passport or other travel document
Recent passport-size pictures
Visa fee payment
Proof you have obtained a Mexico Work Permit and a copy of your work contract if applying for a Mexico Work Visa
Applying for a Mexico work visa
Before being able to apply for a temporary resident visa, the employer has to apply on the employee`s behalf for the Mexico work permit at the National Immigration Institute. Upon approval, the employee may then apply for the temporary resident visa at a Mexican embassy. Processing the application can take anything between a week and month. Hence, applying early enough is crucial.
Once one has received the temporary resident visa, there is only one more step left to complete the process: exchanging the temporary resident visa into a Temporary Residence Card at the National Immigration Institute in Mexico.
If you have any further questions regarding the Mexico work visa, do not hesitate to contact us!
Have you already found a possible business opportunity for your company yet? Fantastic! This is the time to start your business in Mexico. WMP supports you in every step on the way to a successful incursion to the Mexican market. For further information about Mexico as business location and the benefits of starting a business with us, please click here.
Contact us!
We serve our clients, who represent different industries, with over 100 employees at our offices in Queretaro, Mexico City, Puebla, Stuttgart (Germany), and Greenville (S.C., USA).
WMP Mexico Advisors
Pabellón Santa Fe
Anillo Vial Junípero Serra 2601 Office 201
Residencial Juriquilla Santa Fe
76230 Querétaro, Querétaro Mexiko
T: +52 (442) 209 6870
E-Mail: info@wmp.mx
Why we are your partner for building business in Mexico?
Our long experience, insight know-how and extensive network of contacts and relationships
Our full service
We keep you uptodate – Read our Mexico-Blog
Doing business in Mexico – Start now!
Dicsover the most attractive economic regions located in Mexico
Automotive and aerospace industries in the Bajío region
Puebla – Automotive mecca since the early days
Metalworking industry at the US border
Jalisco – The Mexican Silicon Valley
Headquarters and the chemical industry in the capital region
Baja California – The gateway to the Pacific Ocean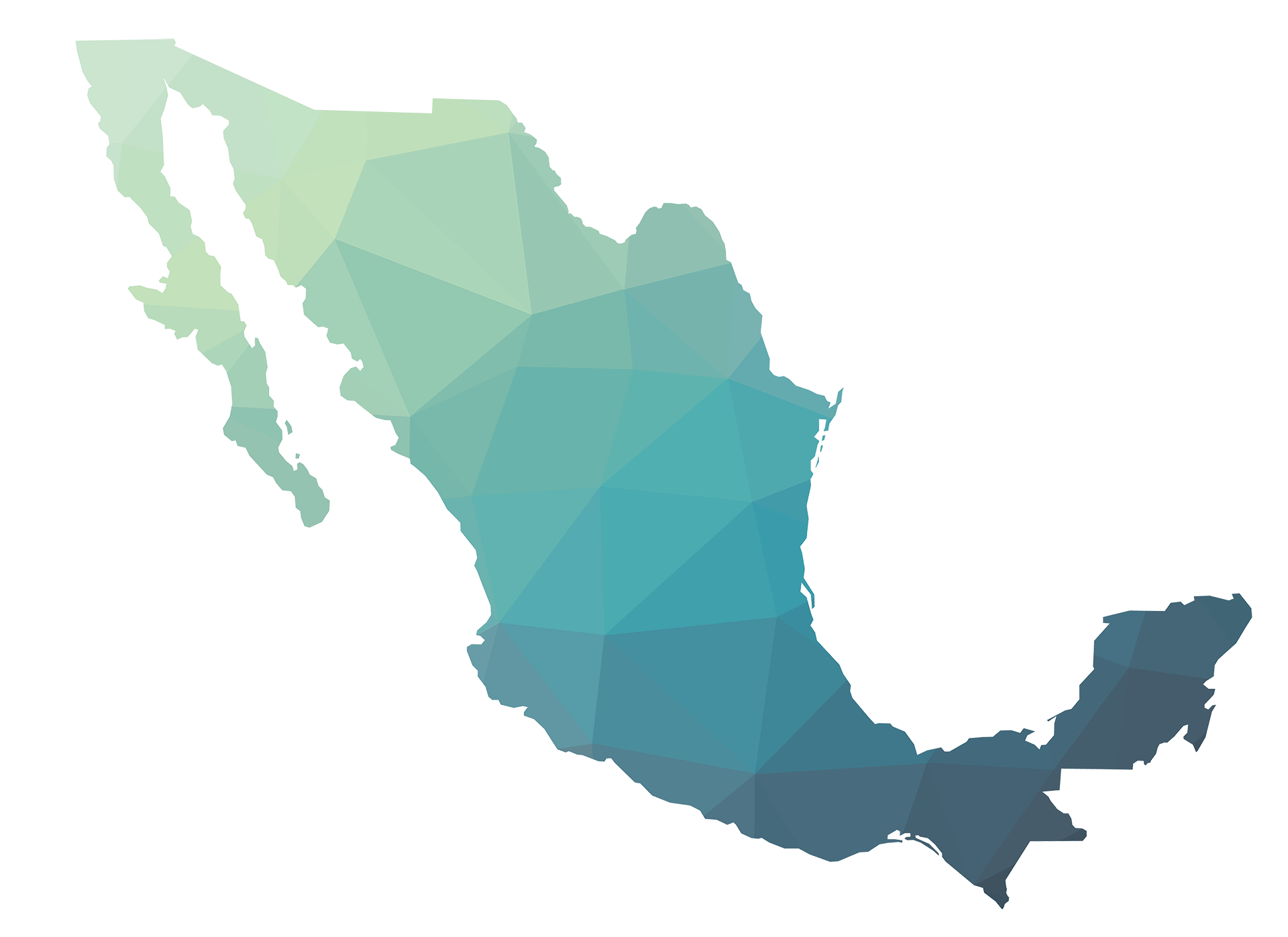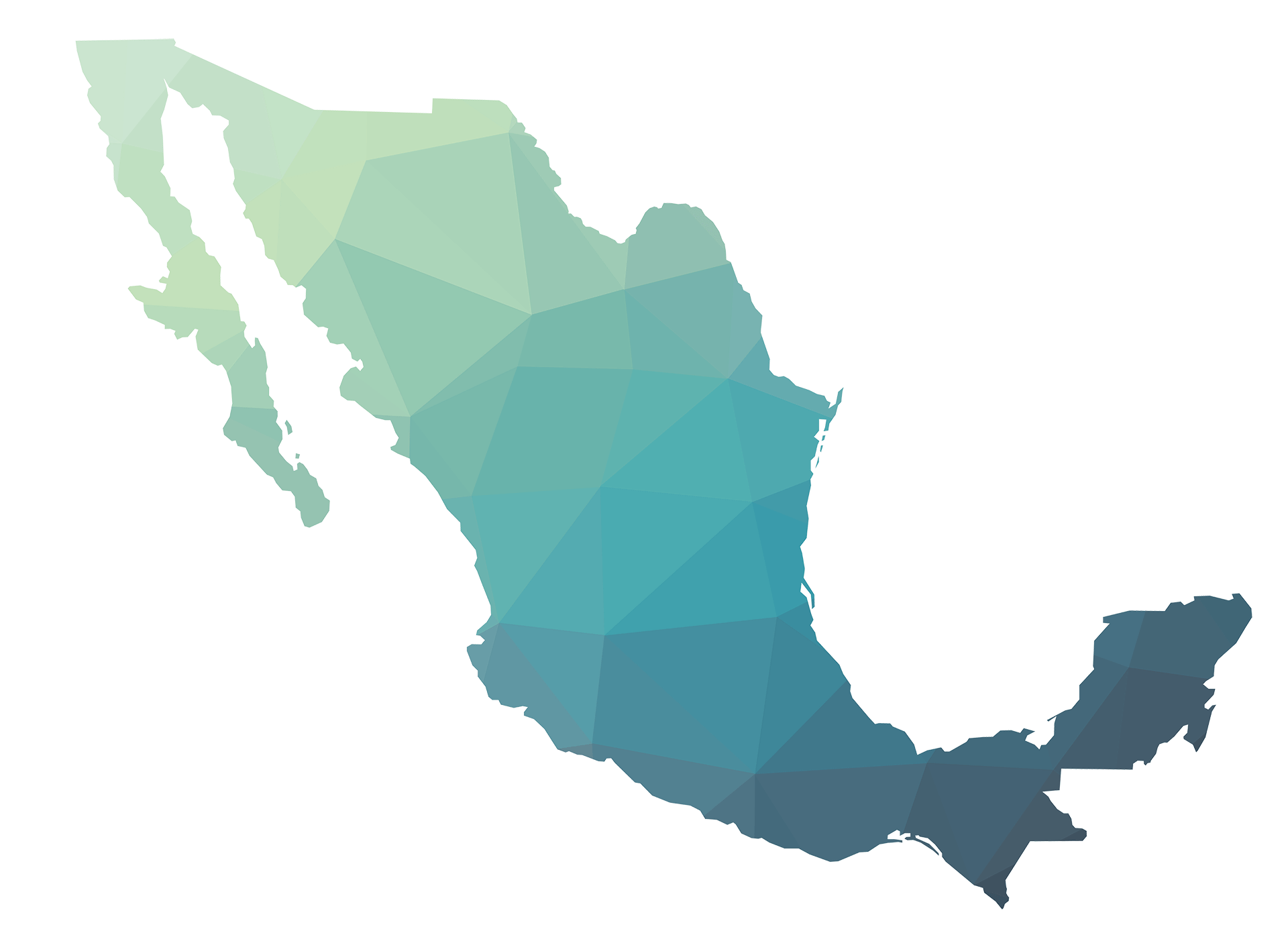 1
Automotive and aerospace industries in the Bajío region
Located in the center of the country, the states of Aguascalientes, Guanajuato, Querétaro, and San Luis Potosi are among the most popular regions when it comes to the location of automobile manufacturers. The new BMW and Daimler plants, which will open in 2019 and 2020 respectively, will also ensure an additional demand for suppliers. For the aviation industry, a strong growth potential is predicted for the coming years, which will consequently attract more FDI.
The Canadian company Bombardier has a strong presence in Querétaro, and a specialized Aviation University is located there. Overall, Mexico is one of the six most important suppliers in the U.S. aviation sector.
2
Puebla – Automotive mecca since the early days
Since the mid-sixties, the Volkswagen Group has been producing individual models in Puebla. Meanwhile, the German car manufacturer Audi has established facilities in the same state, more precisely in the village of San José Chiapa. In 2016 the new production plant, which includes an education center, was inaugurated.
3
Metalworking industry at the US border
Years ago, the metal industry was established close to the US border, in the Mexican state of Nuevo León, especially around its capital Monterrey. An advantage of this location is its proximity to the US market, as 84% (2017) of exports go to the neighboring country.
4
Jalisco – The Mexican Silicon Valley
IT companies have settled mainly in the state of Jalisco, which is located on the west coast of Mexico on the Pacific Ocean.
The region around Guadalajara is known as the Silicon Valley of Latin America, where you can find more than 700 high-tech companies such as Oracle, HP, Motorola, and IBM. Jalisco currently has the fifth-highest number of companies with FDI in Mexico. Approximately 50 percent of all foreign investment comes from the United States and Canada, with another 25 percent from Europe.
5
Headquarters and the chemical industry in the capital region
The location in and around the Mexican capital has been chosen by many companies for their Mexican headquarters. It is not only the central location and the well-developed infrastructure that speak for this region, but also its proximity to the economically strong regions of Puebla and the Bajío. The capital region has attracted companies from the chemical industry such as BASF and Bayer.
6
Baja California – The gateway to the Pacific Ocean
Baja California is an excellent opportunity for suppliers in all sectors due to its privileged geographical location and proximity to the United States. In recent years, medical technology is the main type of company to be established in this region; these companies work closely with manufacturers in San Diego.
The port of Ensenada, one of the five seaports in Baja California, is one of the most important ports on the Pacific Ocean.