Opening of the new BMTS Technology plant facility in Coahuila

The German automotive group BMTS Technology has opened its new plant facility Planta Ramos Arzipe in the Mexican state of Coahuila. After more than a year, the construction of the new plant is now completed; the official operations start-up date is foreseen by September 17. The project represents a 100 million US dollars investment.
BMTS Technology manufactures turbochargers for passenger cars, commercial motor vehicles and off-highway applications. With the new location in Mexico and thanks to the support of the local government, an increase in production up to two million turbochargers can be expected; says CEO Gunter Semeja. The South American and the North American markets (especially the US market), are going to be served by this.
Both the company and the region will benefit from this investment:  500 new jobs will be created through this project. Also, workforce specialization will be promoted thus increasing productivity. According to the Coahuila Government, the settlement of BMTS Technology is a critical step towards consolidation of the regional automotive industry.
Favorable conditions in the region
The automotive industry in Coahuila is in continuous growth. The objective is to continue attracting investors.
Besides, the region provides convincing arguments for this: Security, high academic standards, a well-designed infrastructure and a qualified and skilled workforce are just a few characteristics of the Coahuila.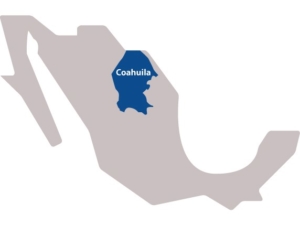 The favorable economic conditions are reflected in the state's export economy. With an export volume of 40.9 billion dollars, Coahuila is the state featuring the second highest export volume in Mexico. Regarding exports of transportation equipment, Coahuila is located in the first place.
At national level, Coahuila is also one of the states with the highest level of social competitiveness. According to José María Fraustro Siller, Minister of the Interior, Coahuila is highly committed to improve healthcare, education and working conditions for its inhabitants.
Is your company not yet located in Mexico? Well, Coahuila is not the only option – Many states offer attractive investment opportunities for foreign companies. Here you can find out which states are more suitable for foreign direct investment.

No matter the region of your choice, we guarantee a safe start in Mexico. We will be happy to assist you with any questions or problems you may have to guarantee a safe start in Mexico. Here you can find our service overview.
https://wmp.mx/UP1/wp-content/uploads/automotive-industry-1.jpg
3410
4828
Ilka Truelsen
/UP1/wp-content/uploads/WMP-Mexico-Advisors1.jpg
Ilka Truelsen
2019-09-17 17:12:22
2019-10-08 18:36:47
Opening of the new BMTS Technology plant facility in Coahuila