Infrastructure projects in Mexico: Inauguration of the TEC at the Port of Veracruz

On 1st of July, the Maltese container carrier White Shark was the first ship to arrive to the new specialized container terminal TEC (Terminal Especializada de Contenedores) at the port of Veracruz. The port was built by Hutchison Ports-Icave within a 31 billion pesos project (US $1.6 million). 80% of the total amount was financed by private investors.
With the new terminal, the capacity of Veracruz' port has almost tripled from approximately 24 million tons of cargo to 66 million. The technological equipment that the new terminal offers is remarkable as well. It includes blockchain, artificial intelligence and cutting-edge technology.
Perspective and potential
The construction of the TEC is only the beginning of a series of expansions planned for the Port of Veracruz. In fact, the capacity is supposed to be extended up to 95 million tons by almost doubling the expanse of the port from 554 hectares to 1,113 hectares (on land and sea). Furthermore, the construction of liquid, agricultural and mineral terminals is scheduled for 2019 and the first quarter of 2020.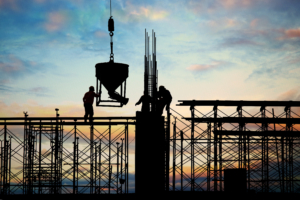 In its total dimension, the project is considered the most important maritime infrastructure project and the biggest logistic project in Mexico. Its target is to promote and facilitate trade relations between Mexico and Europe. So far, container ships heading for Mexico could only reach ports in the United States. From there, export goods had to be imported to Mexico by overland route. The extension of Veracruz' port will make it possible for container ships to directly dock in Mexico. That way, the country's international competitiveness in matters of maritime trade increases significantly.
The mission of trade diversification
Besides generating approximately 150,000 new jobs, the project represents an important progress in Mexico's mission of trade diversification. In the past, Mexico's infrastructure measures had been focused almost entirely on making trade with the United States more efficient.  Meanwhile, the country's diverse trade potentials with other partners were not made full use of. Now, there is a lot of change. Mexico's government and national industries are actively implementing infrastructure measures that facilitate trade with other continents such as Europe and Asia. The expansion of Veracruz' port can be seen as an important step in the realization of that mission.
Mexico's status quo in infrastructure
Mexico's infrastructure measures do not only target maritime transportation. Over the past years, Mexico has been working on the fulfillment of a $600 billion National Infrastructure Program (PNI = Programa Nacional de Infraestructura) released in 2014. The program includes improvement measures in the fields of communication, transportation, urban and rural developments as well as energy, water and health.
So, which is Mexico's current situation in terms of infrastructure? What measures have been put into effect?
Concerning transportation, with the construction of 80 roads and 50 highways Mexico had already completed 85% of the program's objectives in 2017. Furthermore, the national government is now planning to invest $1.7 billion in the expansion of railways to make supply chains more efficient. After ratifying the UMSCA free trade agreement, Mexico is attaching even more importance to the improvement of transportation infrastructure in order to encourage trade.
Other infrastructure improvement projects target the field of education. Technical schools and universities benefit from educational funds as they permit them to consolidate the fields of science and engineering. That way, the annual amount of engineering degrees in Mexico has increased significantly. Currently, it is even higher than in Germany or Canada.
In terms of energy, there has been considerable progress, too. Especially remarkable is the advancement in renewable energy. Private local and foreign firms have started to invest in natural gas, wind and solar technologies. By 2021, those sources will make up 50% of Mexico's energy infrastructure.
WMP Services
Interested in building business in Mexico? We offer a range of services, including tax & accounting, consulting services and legal matters. Start now do business in Mexico and catch help if you need.
https://wmp.mx/UP1/wp-content/uploads/container-terminal.jpg
3648
5472
Ilka Truelsen
/UP1/wp-content/uploads/WMP-Mexico-Advisors1.jpg
Ilka Truelsen
2019-07-18 16:01:41
2019-07-20 14:06:54
Infrastructure projects in Mexico: Inauguration of the TEC at the Port of Veracruz